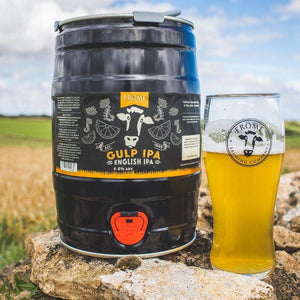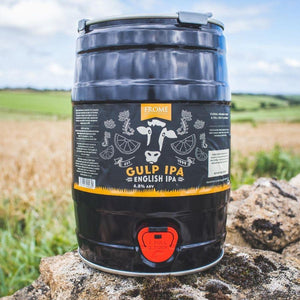 Gulp, IPA - Mini Keg (9 Pints)
Mini keg (9 pints) of Gulp IPA, 4.8% ABV.
Tasting notes:
Gulp by name, gulp by nature. This light, amber-coloured English style IPA rarely stays long in the glass such is its appetising appeal on the palate. Light but assertive notes of peach and grapefruit drift by on the nose, suggestive of a beery fruit salad, and then each gulp reveals orange or maybe tangerine fruitiness, a hint of pepperiness alongside a juicy bittersweetness before the bracing dryness and bitterness in the finish. A thoughtful and subtle beer that demands much contemplation with each gulp.
Hops: Admiral, Amarillo
Food pairing: You won't go far wrong with a hunk of proper Cheddar, various pickles and a sourdough baguette. Yum. 
Mini Kegs are not boxed for delivery, if it's a present please state in the comments.
Also available in 330ml cans. 
Shipping and Returns
Delivery
FREE delivery on orders over £30, on all mini kegs and on our Gift Box. Cheers!
Expect your order within 2-5 working days
For orders under £30 there's a flat rate of £5 delivery
Spend over £100 and you'll get 15% off your order total as well as free delivery
Happiness Guarantee
We're sure you're going to love your beer - it's pretty special and we're incredibly proud of it.
But just in case, we have a 30-day 'talk to us' policy, which means you have 30 days after receiving your beer to speak to us and we'll do whatever we can to put it right. We want you to be as happy with your beer as we are!
You can read our full return policy here. 
About Us
At the Frome Brewing Company Ltd we work with an extremely talented and knowledgeable team of brewers. We pride ourselves on producing the highest quality beers and we're not going to send anything out of our doors that we wouldn't want to drink ourselves. We do like to experiment - but more importantly, we're all about balancing delicate flavours to produce easy drinking beers.
In other words... "it's all about the beer!"
Brewing takes place up to five times a week, with malt from Warminster, hops from Charles Faram and our very own yeast. Our yeast, which is a similar strain to Youngs, is particularly versatile. Our beers are all vegan (but they're not gluten free).
We have a diverse range of beers with colours, strengths and flavours to suit all palates - if you're not sure what to go for, try a mixed case and we'll send you a selection of our finest.
Don't forget you can use code LOVEBEER10 for 10% off your order, and if you spend over £100 you'll get 15% of automatically. Enjoy!
Gulp IPA - hits the spot
Having been a resident local to the original site of the brewery and moved away (my bad), I do love to reminisce over a pint of Richard Lyall's finest. So I summoned a mini-keg of Gulp for my Christmas beer.
Very pleased that they have greatly simplified and clarified the operation of the mini-keg, with a big clear label.
The beer takes me back to my days on Catherine Hill in Frome. The Mendip water, the misty ale and vibrant hops. Sublime.
If only it came with a Griffin pub-quiz to complete the experience. Ah how "The Bar Team" cheated yet still lost.
Gulp
I was always a butcome drinker until my local started with gulp and now I'm hooked. I by the kegs. Brilliant ale , really love the taste. There is none around better at the moment for sure.
Lovely jubbly
Nice, will definitely order again
Simplicity itself
As a last minute, appreciated gift, to a fellow beer lover, it could not be better.
No fuss; even when I put wrong postcode on delivery address, I was contacted and problem rectified instantly.
10 out of 10
Gulp IPA mini keg
Bought the keg for a party … everyone loved it … felt like they were at a festival…. Old school and fruity 😜
Most of our tasting notes are provided by award-winning beer journalist, Adrian Tierney-Jones
As well as being one of our beer tasters (yes that's an actual job!), Adrian's work has appeared in Daily Telegraph, Sunday Times, Beer, All About Beer and the Daily Mail. His books include 1001 Beers You Must Try Before You Die, Great British Pubs, Britain's Beer Revolution, London Pubs Past and Present and Brewing Champions. Safe to say he knows his beer!
Happiness Guarantee
Our beer is incredibly special - we pour heart and soul into every brew. We want you to love it as much as we do. If for any reason you're not happy, just talk to us and we'll put it right. Cheers!